Doctors Richard I. Goldberg, D.M.D., and Genevieve M. Otto, D.D.S., M.S.D., are orthodontic specialists who have a true passion for their profession. They are driven to provide their patients with technologically advanced orthodontic treatment that serves to bolster self-esteem and contribute to their overall health and well-being while also giving them a positive and relatively easy orthodontic experience. As proud St. Louis residents, orthodontic specialists Dr. Goldberg and Dr. Otto are happy to serve Chesterfield, Fenton, and O'Fallon and the greater St. Louis area.
Orthodontic Specialist Dr. Richard I. Goldberg, D.M.D.

Dr. Goldberg graduated with his Bachelor's from Washington University in 1981. From there, he went on to do research in the Department of Pediatric Neurology at the St. Louis Children's Hospital, where he published several medical and scientific papers. Dr. Goldberg continued his education at Washington University, and earned his dental degree in 1988. Upon his graduation from dental school, Dr. Goldberg chose to specialize in orthodontics and enrolled at the University of Connecticut, earning his orthodontic degree in 1990.
Dr. Goldberg maintains his education to ensure he remains at the forefront of orthodontic technology by being an active member of several professional dental and orthodontic specialist organizations including the American Association of Orthodontists, the Greater St. Louis Dental Society, and the Missouri Dental Association.
When he is not hard at work perfecting smiles, Dr. Goldberg enjoys spending time with his family, traveling, and attending sporting events while avidly collecting the memorabilia that accompanies them! Dr. Goldberg also touts being The Boss' (Bruce Springsteen) greatest fan.
Orthodontic Specialist Dr. Genevieve M. Otto, D.D.S., M.S.D.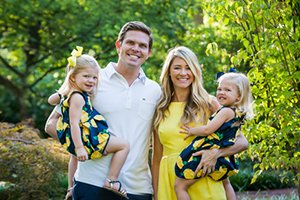 A Missouri native, Dr. Otto grew up in St. Charles where she graduated from Duchesne High School. She went on to earn her Bachelor's in Biomedical Sciences from the University of Missouri in Columbia. Dr. Otto decided to pursue dentistry and was awarded her D.D.S. from the University of Southern California. Dr. Otto then went on to become an orthodontic specialist and graduated from a specialty program at the St. Louis University Center for Advanced Dental Education.
Combined with her education, Dr. Otto keeps up with the latest advancements in orthodontic practice and technology by maintaining active memberships with various professional organizations, including the American Association of Orthodontists, the St. Louis University Orthodontic Alumni Association, the American Dental Association, the Missouri Dental Association, the Greater St. Louis Dental Society, and the Psi Omega Dental Fraternity.
Dr. Otto is passionate about being an orthodontic specialist and finds great joy in her craft. Highly community-oriented, one of her greatest appreciations about her practice is simply getting to know her patients as she provides them with treatment. She loves that practicing orthodontics allows her to give people an opportunity to gain self-confidence with smiles they are proud to display.
When she is not on task creating happy, healthy smiles for her patients, Dr. Otto enjoys spending time with her husband and two daughters. She also enjoys playing volleyball and relaxing with a good book.
Contact Our St. Louis Orthodontic Specialists Today!
Choosing a trustworthy orthodontic specialist is no small task, so if you want peace of mind knowing you are in the most capable hands possible, contact us today to schedule an appointment with one of our orthodontists!