St. Louis Orthodontic Group provides various types of braces as part of our orthodontic treatment plans because we aim to tailor our services to meet the needs and lifestyle requirements of all of our patients. In order to help you understand your treatment options, we have broken down some information about the different types of braces that can be used below. Here you will be able to learn a bit about the different types of braces that are available while considering which type will work best for you.
To learn more about the types of braces available, contact us today to set up a free consultation with a St. Louis orthodontist.
Traditional Metal Braces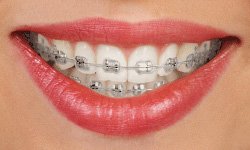 Metal braces are the most common types of braces used in practice today. However, gone are the days when having braces necessarily meant a full mouth of metal. Even today's traditional metal types of braces are considerably smaller and more comfortable than ones used in the past.
These braces are made of high-grade stainless steel and straighten your teeth through the combined use of metal brackets and an archwire. Metal braces can be spiced up a bit as they give the wearer the choice to have different colored elastics (rubber bands) that can create a fun and colorful look. Learn more information about the traditional metal types of braces.
Ceramic Braces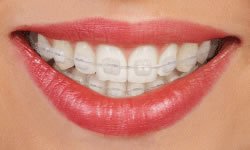 Ceramic braces are made from of a clear material that presents less visibly on the teeth than metal types of braces. For aesthetic reasons, ceramic braces tend to be the preferred choice among older teenager and adult patients. However, while they are less visible, they do require more disciplined oral hygiene because they are larger in size and the material is more brittle than traditional metal types of braces. Because of the nature of ceramic types of braces, they tend to be used more frequently on the upper teeth than on the lower teeth. Learn more information about wearing ceramic types of braces.
Invisible Orthodontic Appliances (Invisalign®)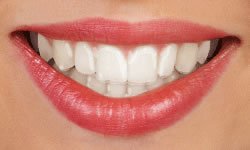 Clear appliances, such as Invisalign®, are a series of clear plastic trays that straighten your teeth over time. Invisalign® braces are almost undetectable when worn and allow the patient to eat and drink as normal. However, these appliances can only be used to correct more minor orthodontic conditions and tooth repositioning. Results are based predominantly on cooperation and a full-time commitment to wearing the appliance. Expectations should be limited, speech may be affected, and braces may still be required to complete treatment. Learn more information about Invisalign® appliances and what can be expected with treatment.
Interested in Learning More About Orthodontic Treatment?
If you would like to discuss more about which types of braces would work best to fit your needs and lifestyle, or if you would like to discuss orthodontic treatment in general, please give us a call at any of our 3 St. Louis locations. Our orthodontists, Dr. Richard Goldberg and Dr. Genevieve Otto are here to proudly serve the greater St. Louis area. We have offices located in Chesterfield, Fenton, and O'Fallon to offer our patients convenience and ease.