When beginning your orthodontic treatment, we will require several important appointments at our orthodontic office. These included the following:
First Appointment – Consultation | Records
At your first appointment in our orthodontic office, you will meet with the orthodontist, and we will create diagnostic records for you to determine the best treatment course for your needs. We will use this information to develop an individualized treatment plan and it will also aid us in tracking the progress of your care. Full diagnostic records typically entail:
compilation of a complete medical and dental history
a clinical examination
study models of the teeth
digital photos of the patient's face and teeth
x-rays
Second Appointment – Conference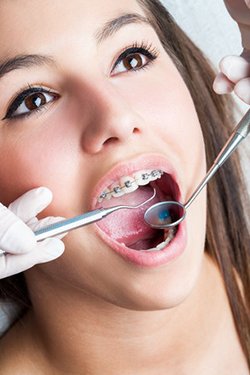 During this appointment in our orthodontic office, the doctor will review your case with you, and will go over the expected treatment timeline. The orthodontist will also discuss whether any surgical procedures may be under consideration as well as the potential for any necessary extractions. We will then review the cost of your treatment plan and any insurance coverage as well. As always, we will be happy to answer any questions you may have.
Third Appointment- Separators
Before braces are fitted, separators are placed between your molars for one week to create space for molar bands. This is a very quick appointment and usually takes no more than five to ten minutes.
Fourth Appointment – Braces
On your fourth appointment in the orthodontic office, your braces will be placed. You can expect this to take about one hour.
For your convenience, your second and third appointments can be combined. Please feel free to discuss this with the office manager if that is your preference.
Regular Orthodontic Office Appointments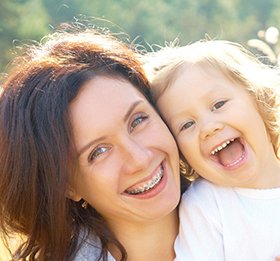 After your initial appointments, the duration of your treatment will require regular visits to the orthodontic office that are spread out between 4-6 week intervals for adjustments. These appointments are usually quick, and can be expected to take about 20 minutes.
Our regular office hours are Monday through Friday, 9:00 a.m. – 5:00 p.m. Please keep in mind that patients are seen by appointment only. If it is necessary for you to cancel and reschedule an appointment, please do so as soon as possible. As appointments tend to be scheduled 4-6 weeks out, it can be difficult to reschedule, and we want to be sure to keep your treatment on track.
Payment & Orthodontic Office Policies
Cost
The costs associated with your treatment will depend on the type of braces selected as well as the extent of the patient's condition. We will discuss fees and payment options before treatment begins to help you determine the best course for you. Along with working with your insurance, our office provides non-interest payment plans to help make our orthodontic treatment as accessible as possible.
Insurance
We will assist you in determining what benefits your insurance carrier provides. As a courtesy, our orthodontic office will file your orthodontic claim and help with any insurance questions you may have.
Financial Policy
Our practice's desire is to provide our patients with the highest quality orthodontic treatment, while also keeping fees down. When treatment begins, we will provide our patients with a non-interest payment plan option. This option consists of an initial down payment and monthly installments to pay off the remaining balance.
Our orthodontic office accepts credit card payments by Visa, MasterCard, and Discover.
Contact Our Orthodontic Office to Learn More
If you would like more information or want to schedule a free consultation with an orthodontist, please give us a call at any of our three St. Louis orthodontic office locations.