While an orthodontic emergency is not an expected event, our St. Louis offices are available to you if one occurs. In general, if you are experiencing severe pain or have an issue with an appliance that is causing more discomfort than should be expected, contact us so we can schedule an appointment with an orthodontist to address the orthodontic emergency.

Fortunately, depending on the orthodontic emergency, most issues can be resolved temporarily at home until you can schedule an appointment with the orthodontist. The more common orthodontic emergency issues are usually related to loose brackets and troublesome wires. If there is a loose bracket or band that can be removed, remove it, and place it in a plastic baggie or envelope and be sure to bring it with you to your next appointment. You can use the wax we provided you to cover any sharp edges or points. Likewise, if you have an issue with an intrusive wire poking you from your braces or other appliance, place the wax over the protruding wire to cover it until you can schedule an appointment with the orthodontist. You can also use a pencil eraser to gently push the poking wire down to help relieve the discomfort the wire is causing you.
During an orthodontic emergency where the archwire on your braces has become loose and slid over to one side, it can be gently pulled back with needle-nosed pliers. As a completely last resort during an orthodontic emergency, you can use a small fingernail clipper to clip the wire behind the last tooth to which it is fastened securely until you can get into our office.
Please remember that it is crucial to call our office when you have had an orthodontic emergency so we can make sure any damage is properly repaired. Allowing an appliance to remain damaged for any extended period can result in delayed treatment progress.
Non-Orthodontic Emergency Discomfort and Soreness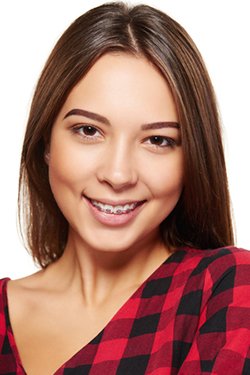 Some soreness and discomfort is to be expected when you initially get your braces fitted and after regular adjustments, and is not considered an orthodontic emergency. Your gums may be sore and your teeth may feel tender when biting.
The following are some options you can consider to address general pain:
Eating softer foods for the first few days can offer some relief until the pain dissipates.
Irritated gums or other sore spots can get some relief with a warm salt-water rinse. To do this, dissolve approximately one teaspoonful of salt in eight ounces of warm water and swish it around your mouth vigorously. You can also use the Natural Dentist's Healthy Gums Rinse, a better-tasting alternative to the salt water rinse.
Using numbing gels like Orabase on the affected area may provide relief. Such gels can be bought at a local pharmacy.
For more severe pain, you can use a pain reliever like Tylenol, or another Acetaminophen. We advise our patients not to use Aspirin, Ibuprofen, or Naproxen Sodium, as these can slow tooth movement.
Your lips, cheeks, and tongue may feel irritated after you have been fitted with your braces, but will toughen as they get used to their presence. You can use the soft wax to dull any particularly sharp edges.
Are You Experiencing an Orthodontic Emergency?
Remember, our office is here to support you for all your orthodontic needs. If you are experiencing an orthodontic emergency, we want to know about it to help improve your comfort and ensure that your treatment stays on track. Contact us at one of our St. Louis area locations in Chesterfield, O'Fallon, or Fenton right away so we can address the problem.