Metal braces are the most traditional type of braces and still the most commonly used in practice today. Their ubiquitous nature is due to their functionality and easy application for broader use. In short, they tend to create the best results for the most patients seeking orthodontic treatment. Metal braces of today are much smaller than their predecessors. With metal braces, you have the option of adding colored elastics (rubber bands) for a more unique and colorful smile.
If you want to discuss whether metal braces are right for you, get in touch with us today at one of our St. Louis area orthotics offices to schedule a free consultation with an experienced orthodontist.
How Metal Braces Work
Metal braces are custom fit to each patient in order to achieve a patient's specific goals. The orthodontist will fit and adjust your metal braces during your treatment. Metal braces are made up of several components including:
Archwires – The main wire that guides the movement of your teeth. It will be exchanged intermittently throughout your treatment as your teeth reposition
Bands – Metal rings that encompass the tooth and allow the brackets to be attached
Bonding material – Orthodontic cement that adheres brackets in place
Brackets – Small metal plates that are bonded to the tooth and keep the archwires in place
Elastic – Small rubber band that hooks between different points on your braces and applies pressure to guide your teeth to their desired position
Elastic tie – The tiny rubber band that wraps around the brackets to keep the archwires in position. They can be various colors and let you liven up your smile!
Hook – A small, metal arm to which elastics are attached
Ligature – A thin wire that positions your archwires into your brackets
Tie wire – A thin wire that is twisted around the bracket to hold the archwires in place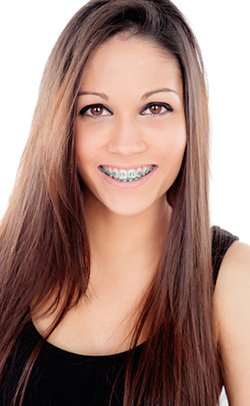 Metal braces move teeth by applying constant pressure over time as directed by the orthodontist. The orthodontist uses the brackets and archwires to guide your teeth, and together they create the force and pressure needed to safely move teeth into place. Archwires are made with materials that are activated by body heat, thus increasing stiffness as they instinctively want to retain their original shape. All of these factors aid the orthodontist in orchestrating your teeth into the right position.
What to Expect with Metal Braces
When the orthodontist first puts your braces on, some initial soreness can be expected. Your mouth and teeth may be tender to biting pressures for approximately 3 to 5 days. Warm salt water rinses, aspirin or whatever you would typically take to relieve a headache can help alleviate the tenderness you may be having. As the lips, cheeks and tongue become accustomed to the surface of the braces and begin to toughen; they too may become a little irritated for 1 to 2 weeks. You can apply wax directly to the braces to relieve this, we'll show you how!
Interested in Learning More About Metal Braces?
If you have questions about whether metal braces are the right choice for you or about how you may benefit from orthodontics in general, please schedule a free consultation with one of our orthodontists. We have offices in Chesterfield, Fenton, and O'Fallon to serve the greater St. Louis area, so call the location that works best for you!